WebCDR Billing
Wholesale Voice and SMS Billing SaaS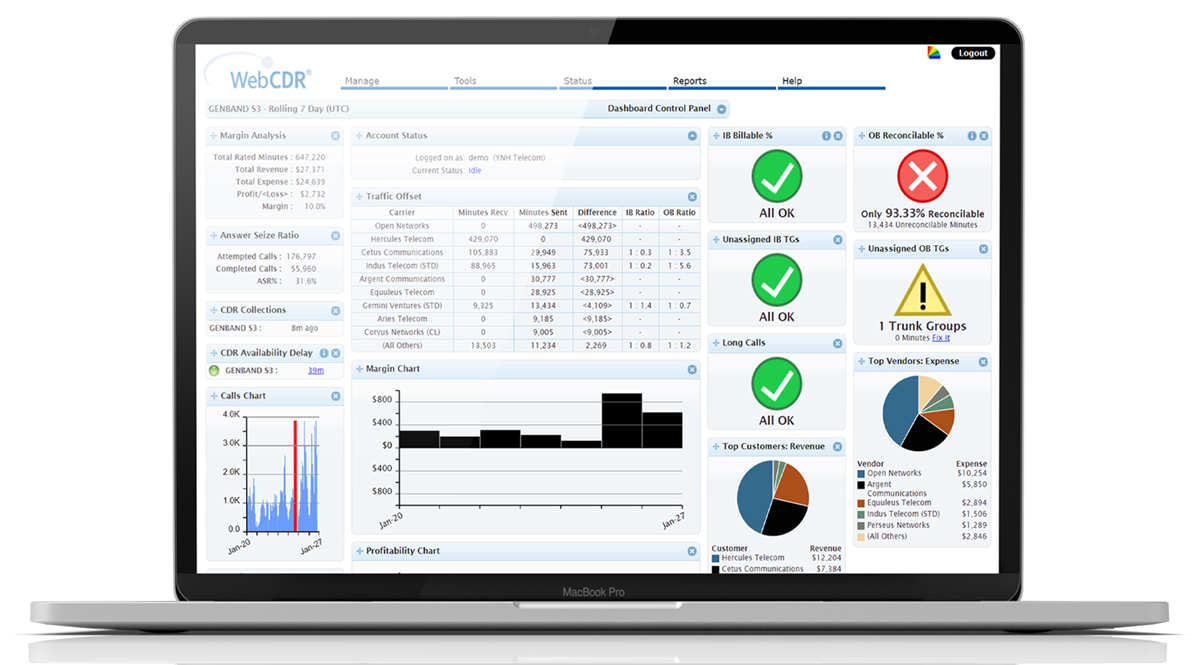 ---
Same day deployment.
No high fees or long-term commitment. Supports almost any switch.
Since 1999 WebCDR Billing has offered 24x7 access to a complete set of telecom billing and traffic management reports right from your browser, updated every 15 minutes.
Now you can spend more time building your business and less time on tedious manual CDR billing processes.
Dozens of telecom reporting, invoicing, and management tools to save you time and boost margins. WebCDR Billing customers get access to all telco billing software features – available 24x7, at no extra charge. You get free tech support and we can set up your account in 24 hours or less.
---
Supports any call volume – 10,000 to 500 million calls per month or more
Review profitability, traffic, QoS, and other reports
Generate professional quality PDF invoices in just a few seconds
Review, add and revise buying and selling rates quickly and easily
Support for multi-tier (e.g. CLI/Non-CLI) A-Z price lists and invoicing
Generate rate plans for your customers based on vendor rates and QOS
Generate and e-mail updated price lists to your customers
Monthly telecom billing based on minute volume
Support for multiple currencies and languages
Features
Dozens of telecom reporting, invoicing, and management tools to save you time and boost margins
---
More telco billing convenience and flexibility
NEW! Support for multiple languages and currencies
Secure and accurate telco billing, since 1999
Automated, encrypted CDR collection
Support for multiple switches and multiple users
Each call rated for both price and cost
Rate or re-rate calls at any time, forwards or backwards in time
Sub-accounts for trading partner web access
Supplier ratesheet intake in their native xls format
How it works
A complete set of telecom reporting tools
Benefits
Why the world's leading carriers turn to WebCDR Billing
---
Since 1999, WebCDR has provided an easier, more efficient way to manage carrier billing. Now you can streamline operations and avoid high software and hardware expenses. Our award-winning telecom billing platform helps you:
Increase your margins and profits: Access traffic reports right from your browser – all updated every 15 minutes
Eliminate tedious carrier billing tasks: Send professional-quality PDF invoices on the fly and save hours of time
Maintain high security: Protect your valuable CDR data in our two geographically-diverse state-of-the-art facilities
Take quick advantage of new business opportunities: Add new trading partners, and change rates any time, quickly and easily
Upload new rates in just a few minutes: No more need to spend hours keying in new rates
No need for in-house software, hardware, or support: Month-to-month minutes-based telecom billing, no extra fees – cancel any time
Easy to get started!: Your carrier billing account set up in 24 hours or less
A Customizable Dashboard
Watch your network's key performance indicators, including QoS, profit margins, and network alarms. 28 widgets to choose from, available in more than a dozen different screen layouts, including one just for the iPad.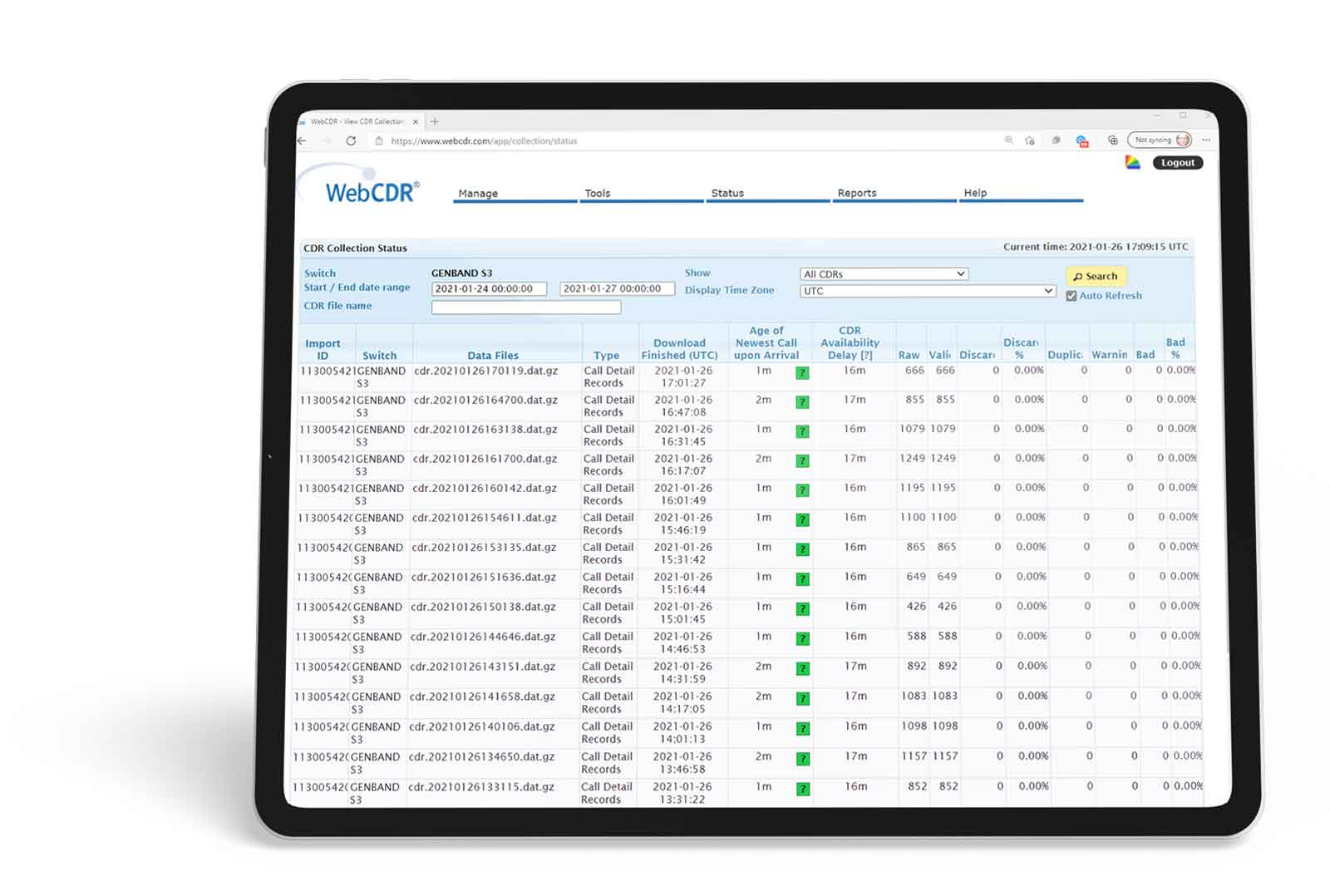 8-in-1: Eight exception reporting widgets combined into one compact control! Green/yellow/red exception indicators monitor IB and OB unrated calls, IB and OB unassigned TGs, long calls, dropped calls, billable calls and reconcilable calls, with numeric data for each.
Account Status: Shows current backend activity status and any system warning messages.
Answer Seize Ratio: ASR% summary statistics.
CDR Collections: Displays elapsed time since the last CDR file was collected from each switch.
Calls Chart: A fine-grained chart depicting switch-wide call volume, with bright red exception bars filling gaps where zero calls occurred.
Dropped Calls: Green/yellow/red exception indicator monitoring potential dropped call events, showing number of calls involved.
IB Rated %: Green/yellow/red exception indicator monitoring switch-wide rated status of IB calls. Includes total unrated IB minutes data.
Long Calls: Green/yellow/red exception indicator monitoring calls exceeding three hours, showing number of calls and number of minutes involved.
Margin Analysis: Summary of switch-wide minutes, revenue, cost, profit, and margin%.
Margin Chart: Fine-grained bar chart showing switch-wide profit/loss on an hourly basis.
Minutes Chart: Bar chart showing switch-wide minute volume on an hourly basis.
News: System-related bulletins from WebCDR.
OB Rated%: Green/yellow/red exception indicator monitoring switch-wide rated status of OB calls. Includes total unrated OB minutes data.
Profitability Chart: Displays revenue, expense, and profit together in one color-coded chart.
Revenue/Minutes: Summary view of switch-wide revenue and minutes.
Top Customers by Revenue: Pie chart of top customers by revenue.
Top Customers by Volume: Pie chart of top customers by volume.
Top Vendors by Expense: Pie chart of top vendors by expense.
Top Vendors by Volume: Pie chart of top vendors by volume.
Trading Post: List of single-line advertisements posted by other WebCDR users.
Traffic Mix: Tabular view of top destinations sorted z-a by minute volume.
Traffic Offset: Tabular view of top trading partners showing IB-to-OB traffic ratios.
Unassigned IB TGs: Green/yellow/red exception indicator monitoring switch-wide rated status of IB calls. Includes total unassigned IB minutes data.
Unassigned OB TGs: Green/yellow/red exception indicator monitoring switch-wide rated status of OB calls. Includes total unassigned OB minutes data.
Unprofitable Routes: Tabular view of top negative margin routes based on IB-OB dial code pairs, sorted z-a on loss.
Volume Concentration by Customer: Tabular view of traffic stats by customer.
Volume Concentration by Vendor: Tabular view of traffic stats by vendor.
Watchdog Alarms: Tabular summary (with drill-down links) of recent Watchdog QoS and Anti-Fraud alerts.
Save time and reduce costly errors
Load rate sheets exactly as you get them from your vendors - no reformatting!
Upload a rate sheet to WebCDR and it's checked against all known rate sheet formats, including multiple variations from the same vendor. WebCDR knows which columns contain rates, which contain country names, which contain prefixes, etc. It also knows if the vendor's rates are in U.S. Dollars, Euros, or some other currency, and whether or not specific time zones apply to the rates. Using this information the rates are loaded into WebCDR.
If WebCDR hasn't seen a particular vendor's rate sheet, or if the format has changed, it alerts our engineering staff and the new format gets added, usually within 1 business day. After the template has been created you can load future rate sheets from the vendor without delay.
WebCDR supports 2516 different rate sheet formats from 686 different vendors.
Eliminate 98% of your manual rates administration work
Generate a set of inbound rates and assign to any number of customers.
Define any number of rate plans (economy, premium, etc.)

Multi-tiered mark-up of vendor costs

Mark-up by a percentage, a fixed amount, or both

Exclude any vendor from the mark-up process

Optionally consider QoS factors (like ASR and ACD) when selecting vendor routes

Easily override any rate for any individual customer to accommodate negotiated discounts
Providing a single point of maintenance for many customers' rates, you can also easily override them in cases of negotiated discounts. This can eliminate 98% of your manual rates administration work, leaving only individually-negotiated rates for further attention.
When deciding which terminating rates to base your rate plan's prices on, you can pick the least cost, the second least cost, or an average of two or more least costs, or you can pick a single vendor and use their costs. You can include or exclude terminating rates based on quality of service and the ability of a vendor to terminate calls to a particular dial code, and you can choose to mark-up the terminating rate by a percentage, by a fixed amount, or both.
Professional A-Z Price Lists
in three to five seconds
Outputs in industry-standard .xlsx-based format
Preview and email price lists from within any browser
Automated weekly delivery available for any customer, with additional options available for manual or semi-automatic modes
Tracks bounced emails as well as successful deliveries
Single or multi-row per region format, customizable for each individual customer.
Price lists always based on customer's time zone
Each entry includes a "New", "Increase", "Decrease", or "No Change" label along with its effective date.
Reduce your time spent on billing day to zero
Professional PDF-based invoices in 3-5 seconds
Customer-specific billing cycles, offset to any time zone

Matching CDRs can accompany any invoice

Support for VAT (or similar flat) tax

Email PDF invoices automatically at the end of every billing cycle
WebCDR can generate and send telecom invoices in accordance with each customer's defined billing cycle. Choices include manual, semi-automatic, or fully-automatic invoicing, customizable for each individual customer. In full-auto mode, you can literally have nothing to do on billing day. (Except wait for payments to arrive!) And for each customer, you can also specify recurring attachments such as a dial code report, an XLS version of the invoice, or a matching CDR file.
Manual and semi-automatic options allow you to preview each invoice in your browser prior to sending. Once you're ready, a single click sends each invoice and any accompanying attachments on its way.
Identify overbilling before payments are sent
Precisely match each vendor's billing period and time zone
Collateral data for disputes available within 10 minutes

Email PDF invoices automatically at the end of every billing cycle
WebCDR can generate PDF-based vendor reconciliation invoices in accordance with each vendor's billing cycle and time zone, ensuring an accurate comparison with your own call data. These supplier-facing invoices can be e-mailed automatically to your own A/P department to speed verification of supplier bills.
WebCDR provides a full-featured billing system over the web that includes dozens of traffic reports, screens, queries, and invoice generation. Since it's hosted, our clients avoid the significant ongoing expense of maintaining in-house billing system's servers, software, and most notably, supporting staff.
Carriers who operate their own TDM switch, softswitch, or VoIP gateways and do business with other carriers need WebCDR. This type of telecom billing is alternately called termination billing, wholesale billing, inter-carrier billing, carrier-to-carrier billing, and simply carrier billing. WebCDR is not intended for end-user subscriber billing.
No, WebCDR was introduced in August 2000 when it was one of the very first hosted billing solutions for the telecom industry. It is now the industry's longest continually operating telecom billing SaaS.
WebCDR fees are based on billable minutes submitted for processing in a month. Fees start at around 1/20th cent per minute (1M mins = $520) and drop incrementally with each additional million minutes per month, finally falling to 1/100th cent per minute above 50M (50-million mins = $5200).
The contract is month-to-month with no minimum commitment; you may cancel at any time without penalty. Or simply stop submitting CDRs and fees will stop accruing immediately.
Yes, we charge a minimum of $520 per month which covers up to 1M minutes in a month and includes free tech support and free software updates.
Yes, most CDR formats are $500. Binary and multi-line CDR formats are sometimes more.
There are no hidden fees in WebCDR. You may, however, decide to subscribe to optional add-ons such as WebCDR Anti-Fraud, and WebCDR Multi-Currency, or Extended CDR storage.
No, Tech Support is free to all within your company who have completed the 4-hour WebCDR training course.
WebCDR supports hundreds of CDR formats from traditional TDM switches, soft switches, VoIP Gateways, and SIP-based switches. If your equipment isn't already supported we can probably build an interface for it in 1-2 days.
No. Since our fees are based on billable minutes and incomplete calls have zero billable duration, there are no extra fees from incomplete calls.
We pride ourselves on rapid implementation and we activate most new accounts the same day they are ordered.
Asides from being hosted, WebCDR's hallmark is its profit margin reporting. Unlike most billing systems, WebCDR rates each call twice: Once for your selling price; again for your buying cost. This allows the system to calculate the gain or loss on each and every call and then use that data to show you profit by country, by customer, and by vendor. Some carriers maximize cash flow; they lead exciting, albeit short lives. Others maximize volume; they lead busy, albeit short lives. Smart carriers maximize their profit margins, and WebCDR is the best tool for this critical task.
There are no such fees in WebCDR; add as many customers and vendors as you need. Generate as many PDF-based carrier invoices and Vendor Recon invoices as you need.
We provide web-based tools that you need to rate calls, produce reports, and generate PDF invoices with your company's name and address as the billing company. WebCDR can also e-mail those invoices directly to your customers. You are responsible for collecting the amount due.
In general terms, we develop and maintain the hardware and software infrastructure behind the service; you use the resulting service to run your business.
Yes. WebCDR automatically encrypts your confidential information in transit from your network to ours using the Secure Sockets Layer protocol (SSL) with an encryption key length of 128-bits. Even before you register or log in to our site, our server checks that you're using an approved browser - one that uses SSL 3.0 or higher.
Once your information reaches us it resides on a server that is heavily guarded both physically and electronically. Our servers sit behind an electronic firewall and are NOT directly connected to the Internet, so your private information is available only to authorized users.
Only authorized employees are permitted to access customer information. Authorized employees have been screened and trained on how to handle information properly and are subject to strict limitations and guidelines in the handling of that information.
WebCDR's Vendor Recon invoice is a supplier-facing PDF-based invoice that drives off your buying cost rates. Run one every time you receive a bill from an underlying carrier to verify that they are charging you correctly. When discrepancies are found (and they will be found), WebCDR can generate a matching CDR file that contains every call in the Vendor Recon invoice to back up your dispute with solid evidence.
Yes. Using an automated exchange rate feed from
OpenExchangeRates.org
, WebCDR allows you to base your account in any currency, and optionally, to select a different default currency for each customer and supplier.
Yes. WebCDR lets you generate beautiful PDF-based invoices at any time for any billing period. Once generated you can email them from within the WebCDR web UI, or even configure your account to automatically generate and/or email invoices to select customers on a scheduled, recurring basis. We can even put your company's color logo in the upper-left corner.
WebCDR's invoices are typically ready in 2-10 seconds, depending on length of billing cycle and traffic volume. If you elect to produce matching CDRs for each PDF invoice, or the billing period prefix summary, it will take longer.
Both inter- and intrastate rating are supported in WebCDR. Intrastate rates are like interstate rates except they are further defined with one or more ANI prefixes.
Yes, WebCDR can rate calls based on OCN and LATA. You do not need to convert OCN/LATA codes to lists of NPANXXY prefixes.