WebCDR Anti-Fraud
Cloud-based VoIP Fraud Detection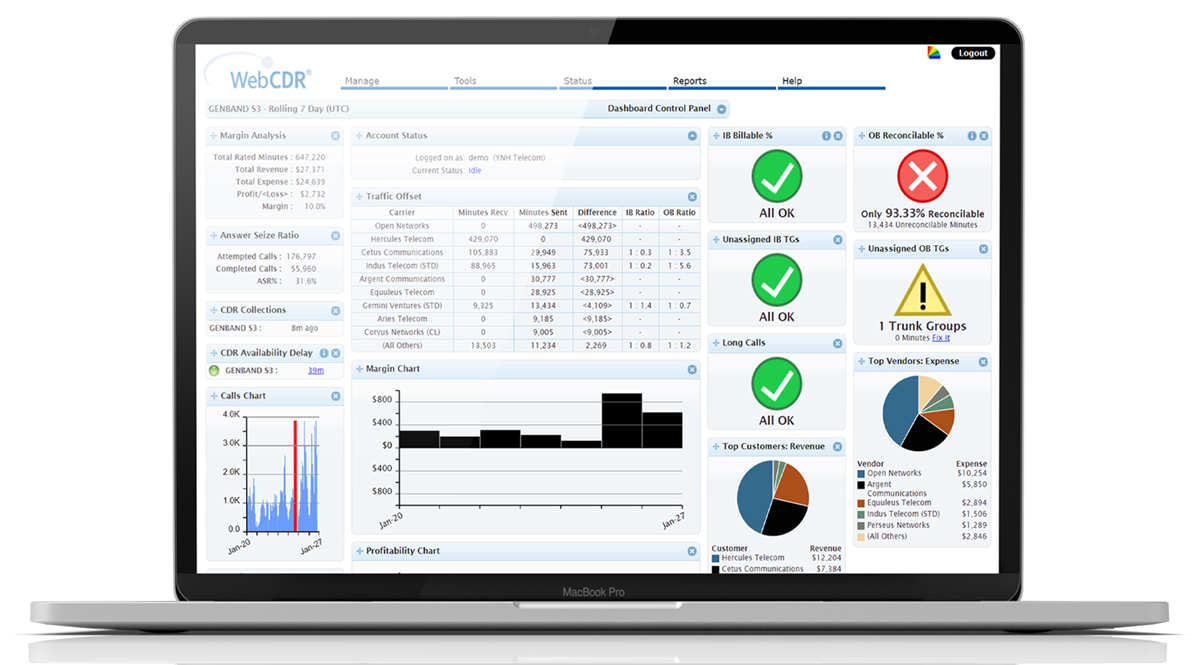 ---
Why buy expensive hardware and software?
WebCDR Anti-Fraud continually downloads and analyzes your switch's most recent CDRs and alerts you to potentially fraudulent traffic, before it can cause financial calamity.
SIP providers and wholesale carriers serving the booming enterprise IP-PBX market need toll fraud detection in place today, before hackers can find and exploit your customers' poorly-secured IP-PBX systems and flood high-dollar traffic to your underlying carriers.
---
Fact: Too many customer premise IP PBX's are inadequately secured, or worse: Entirely unsecured and running with factory default settings, including factory default passwords!
Fact: VoIP hacker bot apps are constantly trolling the Internet seeking out vulnerable IP-PBX and SIP phone targets, and once found they are quickly and mercilessly exploited.. often running up tens of thousands of dollars in illicit usage that nobody (but you) ever pays for.
Fact: Documenting and proving a fraudulent incursion to the enterprise customer whose equipment was breached is difficult, at best. The customer will balk at the eye-popping bill with this as the likely outcome: A billing dispute, a lost customer, and no payment. Meanwhile, your underlying carrier will insist on timely payment for the traffic.
Features
WebCDR has been serving the wholesale carrier industry from the Cloud since 1999.
---
Cloud-based service means no hardware or software to buy.
Month-to-month contract; cancel at any time.
Works with any switch that outputs file-based or RADIUS-based CDRs.
Round-the-clock fraud protection with alerting via email and web.
No on-site components or disruptive integration with your switch. Simply provide secure, read-only download access to your switch's file-based CDRs.
Automated, fault-tolerant CDR collections with encrypted transfer options.
Web-based control panel and setup wizard guide you step-by-step through the initial settings.
Three separate abuse detection algorithms alert you to atypical traffic, often within minutes of a suspected incursion.
Four levels of alerts from 'information' to 'critical' organize messages and can feed third-party ticket tracking systems.
Specify one or more recipients for each alert.
Configurable suppression of repeating alerts.
False alarm suppression with optional user overrides.
No-cost option to pre-load your recent CDR history so WebCDR's pattern recognition database can deliver accurate fraud detection from day-one.
Customizable alarms support country-specific monitoring, or use the supplied wizard's defaults for set-and-forget network-wide surveillance that takes 60-seconds to enter.
Includes all standard Watchdog alarm functions for QoS and pre- and post-paid balance thresholds.
Fully integrated with WebCDR Billing (optional).
Same-day activation in many cases.